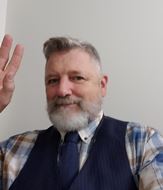 Hello to everyone interested in advancing the business skills of young people in Jersey County.
My name is Gregg Cooper and I've been given the opportunity to be the facilitator for the Jersey County CEO program. I like being around this age group and believe we can help them prepare for their future as managers and business owners. The CEO program has years of great success in other communities. I've found the Midland Institute has a tremendous support network and resource bank for us to open career doors for our community's young people.
My own business, management and training experience is rather varied. After many years working in banking and financial consulting, I was a founding member of a company that managed internet service companies in rural areas. After 12 years, the window of opportunity for that type of business closed and I enrolled in graduate school at Missouri Baptist University. During that time I also became certified to teach high school accounting technology, business and marketing. I completed a Master of Business Administration in August of 2018 and was exposed to business techniques and topics that didn't even exist just a few years ago. My undergraduate degree is a B.S in Agriculture/Agronomy from the University of Illinois.
I've been active in the Jersey community for over 30 years as a Trustee of the Beatty Scholarship and Loan Fund and an Elder of the First Presbyterian Church. Some of you may know me from past encounters as a leader of Boy Scout Venture Crew #2819, past Vice President of West Lake Country Club, past Vice President of Jersey County Economic Development Corporation or as past President/Exalted Ruler of Jerseyville Elks Lodge #954.
As business and educational leaders, mentors and guides, I feel we can not only improve the chances for our youth to be successful, but can also invest in the future of our businesses and families here at home. Helping our high school students become exposed to the world of business outside of a classroom can benefit not only them as individuals, but also our entire community.
Gregg